We are now well and truly into June and it's all been a bit damp and disappointing so far. The Jubilee celebrations brought some light relief and the Olympic Torch is still delivering joy and delight as it travels around the country but I'm sure that we are all ready for some constant sunshine and a barbecue. I have brought some sun glasses and sun cream so I'm all ready! This past fortnight has brought with it some major social media news so pay attention to the following items and take the necessary action.
1. LinkedIn is Hacked
Last Wednesday (6th June) just as we were recovering from the jubilee celebrations,  a Russian hacker was busy stealing over 6.5 million LinkedIn passwords. These passwords were then posted online (without the accompanying emails or usernames). This caused great concern, understandably, but then great hilarity as we found out what people were using as their passwords. Social media Today took a look at some examples and also provided a link for you check the strength of your password. The LinkedIn blog did a great job of keeping us informed of what was happening and what action we should be taking, the key message being – change your password! We were also kept up to speed with all the extra security that was now in place.  As you can imagine there has been a lot of comment and criticism around the web the New York Times was particularly unimpressed. For further thoughts on this situation you can look at the Firebelly's top 5 must reads on this subject.
 2. Facebook App Center launched
Do you use apps on Facebook? If so, you will probably be aware that there has, in recent times, been no central location where you can go to browse through the available applications that exist within the social network. That is all about to change! Facebook have launched the new app centre in the U.S. and it will be rolled out to further countries in the coming weeks. You can read more at All Facebook or if you prefer the BBC.
3.Google Places Merges with Google+
Over the last few years small businesses have been encouraged to claim their place on the map using Google Places, this has proved brilliant for SEO and Google search. Last week Google announced that Places are now being phased out to be replaced with Google+. If you are already on Google+ you may have noticed an additional Local Tab on your left hand sidebar. Jason Wells from ContactPoint has written an informative post about this development accompanied with clear instructions and guidance on what to do next. He claims: "Literally, if you do not have a Google+ page you will not exist in Google search." I have also found this information really helpful.
4. Facebook for under 13s
At the moment children under the age of 13 are not permitted to have their own Facebook Account. As a parent this pleases me enormously, however it appears that this is all about to change. Despite the age restriction it seems that children are still accessing Facebook by lying about their age, with their parents consent, so Facebook are looking to bring in a child's account which is overseen by an adult. Find out more at the BBC site.
5. World Map of Social Media
In his most recent edition of the world map of social media, Vincenzo Cosenza  (social media strategist) has discovered that Facebook is still top of the pops across the world. For a greater breakdown and further information visit All Twitter.
6. Hangout meets YouTube
How are you getting on with Google+? Have you hung out yet? If so you may be pleased to hear about the YouTube app that is available in Google+ Hangout. Once you have set up a Hangout you can activate the app then create, control, save and share playlists of videos with your friends. Read more at the official YouTube blog.
7. Twitter has a New Logo
Have you noticed that the Twitter Bird has lifted its head a little? The logo has been updated and you can read all about it at All Twitter. The post also includes guidelines on how the logo may be used.
 8. @Sweden Crazy or Ingenious?
This story is all about the official twitter feed from Sweden being managed by average everyday Swedish citizens taking on the role of Twitter spokeperson for their country seven days at a time. I first read about this @Sweden experiment at the New York Times, and reserved judgement until I had actually seen it and read the tweets. The English is sometimes questionable and the content eye brow raising at times but I do like the idea and concept of it, so do the fine people at All Twitter who consider it be anything but a failure. Sonja is at the reins currently so go and have a look and make up your own mind about this social media experiment.
9. Infographic of the Week
I have to confess that the main criteria for choosing this inforgraphic of the week was that it was so gorgeous and appealing to the eye. It's all about Pinterest and takes a deeper look into the lives of Pinterest users.
10. The Social Jubilee
What did you do to celebrate the Diamond Jubilee? Did you join in with one of the 9500 street parties? Maybe you were one of the 1.2 million people lining the river Thames as the flotilla passed by. The numbers below were taken from the Guardian.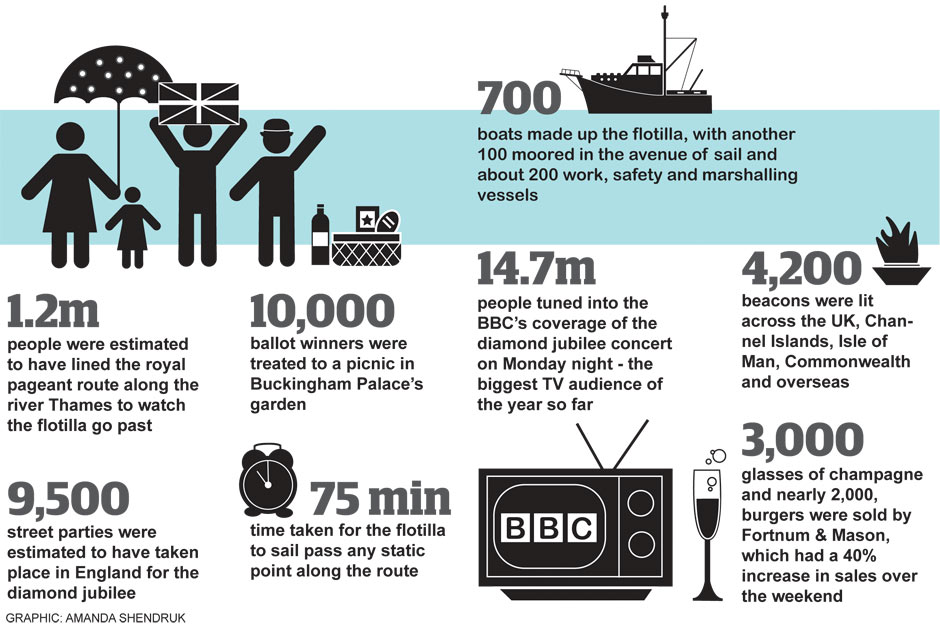 The Guardian also took a  look at where the most tweets were coming from and created this rather fantatsic video with the results: